Non-knowledge, Laughter and The Moving Image – Seminar Part 2 Day 1
January 12 @ 11:00 am

-

2:00 pm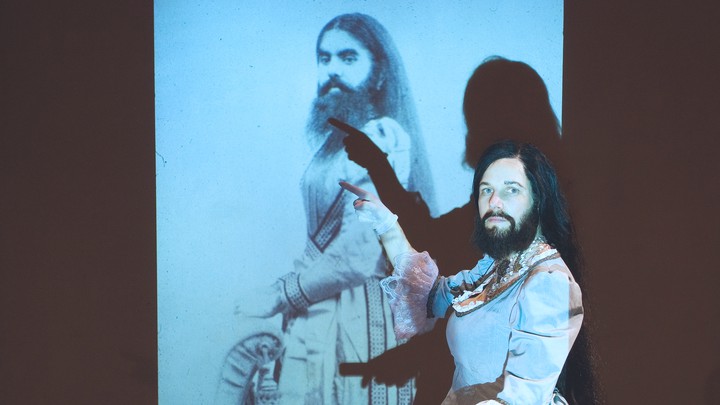 Screening and Discussion of:
Pauline Boudry / Renate Lorenz
N.O. Body
16mm / HD, 15 min, 2008
Online BBB Room: https://bbb.hfbk.net/b/ann-xez-t2r
Screening will start at 11.30 following a disussion until aprox 12.30.
After that Group 2 will meet together (until 14.00)
In 1933, during the book burning, the Nazis destroyed the Institute for Sexual Science directed by Magnus Hirschfeld in Berlin. It seems obvious that not only the institute but Hirschfeld himself was persecuted, as a Jew and homosexual, but also as someone publicly demanding equal rights for "different bodies".Along with his theories on sexology, he published in 1930 'Sexology, Pictures'. In more than 800 pages, this book focuses on photographs and drawings of people in drag, crossdressers who 'pass' as the other gender, fetishists and SM scenarios, gender ambiguity, even 'intersex' animals. This book is the starting point for the installation.The film restages a photograph of the 'bearded lady' Annie Jones (1865 – 1902). She lived in the USA and was one of the most famous bearded ladies of her time. She toured throughout the USA and all over Europe, first with the Barnum Circus and then later with her own show. The photograph of Annie Jones crosses through two contexts of difference. It travelled from the freak show in the Barnum Circus, where she was presented as a 'wonder' or a 'freak' (for a fee), to the medical theater, where she was shown in Hirschfeld's book as a potential 'patient.
Pauline Boudry and Renate Lorenz have been working together in Berlin since 2007. They produce installations that choreograph the tension between visibility and opacity. Their films capture performances in front of the camera, often starting with a song, a picture, a film or a score from the near past. They upset normative historical narratives and conventions of spectatorship, as figures and actions across time are staged, layered and re-imagined. Their performers are choreographers, artists and musicians, with whom they are having a long-term conversation about the conditions of performance, the violent history of visibility, the pathologization of bodies, but also about companionship, glamour and resistance.
Their recent work, "Moving Backwards", featuring choreographers/ performers Latifa Laâbissi, Werner Hirsch, Julie Cunningham, Marbles Jumbo Radio and Nach premiered at the Swiss Pavillon of the 58th Venice Biennale. "Telepathic Improvisation" with performance by Marwa Arsanios, MPA, Ginger Brooks Takahashi and Werner Hirsch, premiered in 2017 at Participant, New York. "Silent" with performance by Aérea Negrot, premiered at the Biennale of Moving Image in Geneva in November 2016. In 2015 "I Want" with performance by Sharon Hayes, was shown in their solo show at Kunsthalle Zürich and Nottingham Contemporary. Recent solo exhibitions have included "Ongoing Experiments with Strangeness" at the Julia Stoschek Collection (2019), Berlin, "Telepathic Improvisation" at the Centre Culturel Suisse Paris (2018) and CAMH Houston (2017), "Portrait of an Eye" at Kunsthalle Zürich (2015) "Loving, Repeating" at Kunsthalle Wien (2015) "Patriarchal Poetry" at Badischer Kunstverein (2013), "Aftershow" at CAPC Bordeaux (2013), "Toxic Play in Two Acts" at South London Gallery (2012), and "Contagieux! Rapports contre la normalité" at the Centre d´Art Contemporain Geneva (2011).
Their work has been written about by writers and critics including Andre Lepecki, Mason Leaver-Yap, Gregg Bordowitz, Antke Engel, Nana Adusei-Poku, Mathias Danbolt, Ellen Feiss and Laura Guy. Their most recent catalogue "Moving Backwards" (2019) was published by Skira, "Telepathic Improvisation" (2018) was published by the Contemporary Arts Museum Houston, "I Want" was published by Sternberg Press (2016), "Aftershow" was published by Sternberg Press (2014).